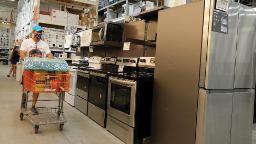 Inflation isn't yet killing demand, and investors have taken notice. The
SPDR S&P Retail
(XRT)
exchange-traded fund, which holds a variety of leading retail stocks, has surged nearly 60% this year, beating the broader market by a big margin.
That's been great news for retail giants Home Depot and Lowe's, which are both set to report earnings this week.
Home Depot
(HD)
shares have soared nearly 40% this year, making it one of the top performers in the
Dow
(INDU)
. Rival
Lowe's
(LOW)
has done even better, skyrocketing about 45%.
Both retailers have benefited from the fact that there are plenty of DIY enthusiasts looking to fix up their homes before selling them, as well as new homeowners who need to do renovations. The two companies also sell lumber and other supplies to professional builders.
Analysts are predicting Home Depot's earnings per share will rise more than 20% this fiscal year, which ends January 31. Wall Street expects an even bigger profit pop — nearly 30% — for Lowe's.
Can it be sustained?
"Retail sales are expected to soar this holiday shopping season due to high consumer confidence as well as rising personal income," said Louis Navellier, chairman of Navellier & Associates, in a report last week. "The shortage of some key goods should not derail holiday spending, since when consumers have money in their pockets, they will spend it."
A summit between the world's top economies
On the agenda: The talks come at a time of heightened tensions over Taiwan, trade and human rights. At the same time, the United States and China just unveiled a surprise pact on climate, underscoring some areas of cooperation.
For investors, discussions between the world's two largest economies are always worth watching. The meeting will be Biden's first with Xi since he became president in January.
There will be plenty to talk about. While the Biden administration recently reached an agreement with the European Union to ease Trump-era sanctions on aluminum and steel, criticism of China's trade practices and subsidies for domestic businesses has persisted.
The global energy crisis and supply chain disruptions could also feature in discussions. And then there's the weakness in China's property sector, which rattled American investors earlier this fall.
Up next
Tuesday: US retail sales; US industrial production; Eurozone GDP; Walmart, Home Depot earnings
https://www.cnn.com/2021/11/14/investing/stocks-week-ahead/index.html