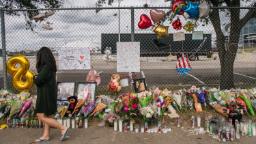 On the morning of November 6, however, I woke up to
the tragic news
of a crowd surge that claimed the lives of
nine people
and injured hundreds more. I couldn't wrap my mind around how this could have happened.
Just two days before the festival broke out into chaos, I stood with Scott, the Houston police chief and other community officials at
the unveiling of a basketball court
the rapper
helped renovate
in Sunnyside, a historically black neighborhood where he grew up. I watched as fans erupted into deafening screams when Scott ran onto the court to share a few words.
The saying, "Life can turn on a dime," is one that has repeatedly come to mind throughout this pandemic. The mass casualty incident at Astroworld proved once again how quickly things can change in what may seem like the blink of an eye. What was supposed to be a fun concert will now inevitably leave thousands of young people traumatized after experiencing and witnessing unimaginable pain and anguish.
While investigators in Houston are still working to determine all possible causes of death and injury, there's already plenty of finger-pointing as people try to understand who was responsible for this unfathomable episode. I don't want to pose as an armchair expert and speculate on what should have been done differently.
What I do know is that these deaths should not have happened. Going forward, we need to reconsider issues of safety and crowd control and make sure an incident like this never happens again.
Houston is hurting right now and a sadness looms over the city. More than ever, we need to rally together and provide our fellow neighbors the strength and support they need in these dark times.
As the councilwoman of District D, which includes Sunnyside, I know this tragedy has no doubt affected this proud and tight-knit community, which embraced Scott as a hometown hero. Like other neighborhoods, Sunnyside has seen senseless violence and had to grapple with the reality that our youth are dying much too soon. What happened at Astroworld, in some way, evokes a senselessness that feels all too familiar.
What happened last week will weigh on my heart — and the hearts of countless others — for a long time. But the city of Houston is resilient, and I know this community can come together.
May all the victims rest in peace and may the families and people whose lives are forever changed find comfort.
https://www.cnn.com/2021/11/14/opinions/houston-astroworld-evans-shabazz/index.html