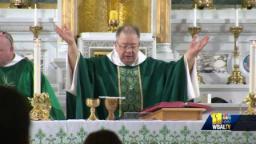 PHILADELPHIA (WPVI) — Philadelphia police are investigating after a woman was shot and killed inside a check cashing business, according to police.
The discovery was made on Tuesday along the 5800 block of Old York Road in the city's Ogontz section.
Police say the 67-year-old woman was shot once in the chest during an apparent robbery at Any Checks Cashed. She was pronounced dead just after 1 p.m.
The woman has not been identified, but sources and neighbors tell Action News that she was the owner of the family-run business.
"When is this going to stop? Like losing innocent people, people that's trying to work and take care of their families," said neighbor Shawn Robinson.
Police say the victim left the store briefly before she was followed back inside the business by an armed suspect.
Video showed the man force his way behind the security glass to where the money was located, and a struggle for the gun ensued.
Police say the suspect made off with an undisclosed amount of cash.
Chopper 6 was overhead as police cordoned off an area of the block where a day care center sits just feet away.
Jamal Tucker was picking up his daughter at the day care as police processed the scene next door.
"It's like people are becoming desensitized to it. We see it and we walk past like it's the norm, and that's the sad part. People are becoming accustomed to it and we shouldn't be," said Tucker.
Another nearby business owner says he's worried that something like this will happen again with the holidays approaching.
"With Christmas coming, you never know what's going through people's minds. So, I just keep my family safe and pray to God," said the man.
Police are looking for a man in his 40s who was wearing all black clothing at the time of the shooting.
Anyone with any information is asked to call police at 215-686-TIPS.
Copyright © 2021 WPVI-TV. All Rights Reserved.
https://6abc.com/philadelphia-police-woman-found-dead-check-cashing-business-old-york-road/11243492/